Line Array QX - 1000
| | |
| --- | --- |
| Design | 2-way active system |
| Frequency range | 35Hz-1000Hz / 110Hz-18kHz (LF / HF) |
| Coverage angles (nominal) | 120°x 10°HT (hor. x vert.) |
| Directivity index (DI) | 12 (+2/-3) 600Hz - 8kHz |
| Power handling (nominal) | 800W / 240W (LF / HF) |
| SPL 4V / 1 m | 95dB / 102dB (LF / HF) |
| Max. SPL | 130dB / 132dB (LF / HF) |
| Components | 4x10"low-mid chassis |
| | 6x4"mid-HF |
| Corssover | 257Hz 18 dB / octave, automatic resetable |
| | driver protection, passive allpass filter to |
| | optimise phase esonse and time alignment |
| Impedance | 8Ω / 8Ω (LF / HF) |
| Connectors | 2x Neutrik Nl4 ±1W/±2T |
| | |
| Enclosure | |
| | Trapezoidal enclosure with extra cluster |
| | angles out of 18 mm multiplex with highly |
| | resistant structured paint in black, |
| | 12 ergonomic butterfly handles, |
| | ball proof steel grille with exchangeable, |
| | acoustic foam |
| Flyware | 4 flying points |
| Dimensions (W x H x D) | 1151 x 634 x 380 mm |
| Weight(kg) | N.W:70 G.W:75 |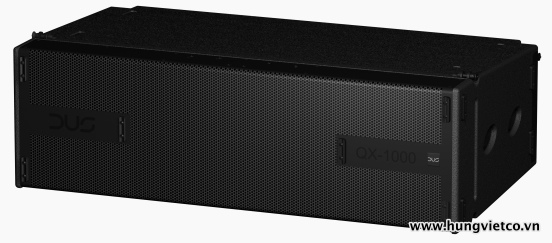 The QX-1000 Line Source element has an operating frequency bandwidth from 40Hz to 18kHz and this response can be lowered down to 35 Hz with the addition of the DXB550 Iow frequency extension cabinet.
The QX-1000 system is a 2-way, bi-amplified design and is equipped with 4x10" speakers in a bass-reflex tuned enclosure. The HF section features a 4".QX-1000 designed with rotatable high frequency which makes it flexible used in diversities occasion, dual line treble can side-to-side adjustment from 0-6 degree independently according to on-site request. The most widely coverage can be reach to 120 degree.
The QX-1000 enclosure heart is made of first grade Baltic birch plywood with top and bottom aluminum plates to ensure maximum acoustical and mechanical integrity. The 4-point rigging system allows flying up to
16 QX-1000.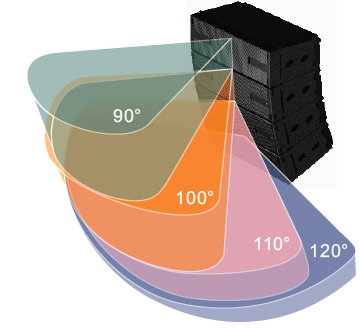 Sản phẩm cùng loại