Line Array QX-12 - 3 way system
Design
3-way active system

Frequency range

LF(-10dB/±3dB)


MF(-10dB/±3dB)


HF(-10dB/±3dB)


55-1200Hz/70-900Hz


200-4500Hz/280-4000Hz


600-18kHz/800-17kHz


Coverage angles (nominal)
120°x 10°HT (hor. x vert.)

Power

LF(AES/Peak Power)


MF(AES/Peak Power)


HF(AES/Peak Power)


400w+400w/1600w+1600w


240w/960w


200w/800w


Sensitivity

LF(1w/1m /Max SPL)

MF(AES/Peak Power)

HF(AES/Peak Power)

98dB+98dB /130dB+130dB


102dB/131.8dB


112dB/141dB


Components




2x12"mid-low drivers

6x4"middle drivers

2x1.4"Exit /3"Voice coil

Corssover


LF

MF

HF

60Hz/-24dB/oct


400Hz/-24dB/oct


1000Hz/-24dB/oct


Impedance

8+8Ω/8Ω/16Ω LF/MF/HF

Connectors

2 x Neutrik NL8 ±1LF/±2LF/±3MF/±4HF

Enclosure
Trapezoidal enclosure with extra cluster

angles out of 15mm multiplex with highly

resistant structured paint in black,
ball proof steel grille with exchangeable,
acoustic foam
Flyware
3 flying points
Dimensions (W x H x D)
1069 x 555 x 290 mm
Weight (kg)
60Kg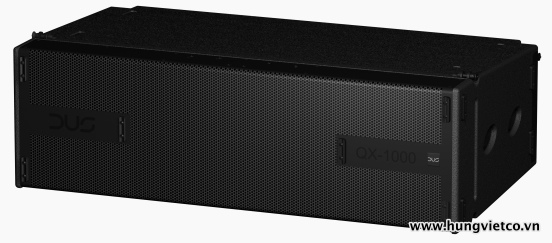 The QX-12 is an ultra compact three-way full range line array module,designed for a wide range of venues where high fidelity sound and outstanding intelligibility are required.
The systems are designed to be used in multiples with a minimal configuration of 2. Up to 16 units can be configured in one array to achieve extreme high levels needed for larger venues. An optional DSW2000H can be added for increased low frequency response.
The integrated rigging system allows quick and easy flying or ground stacking. Arrays may be built straight or curved in various angular to obtain the desired vertical coverage. The fact that the QX-12 is ultra compact and light reduces manpower and eases transport. When coupled with DSW2000H the QX-12 gives audio companies a flexible plug and play system for a wide range of applications from the smallest venue to a concert-level sound.
Sản phẩm cùng loại
Equalizer Nady System Inc. USA GEQ-231
mota
2-channel
Double rack space
31 1/3rd octave bands each channel
Balanced XLR and ¼" TRS input/output connectors
Low-cut filter at 40Hz, 12dB/octave switchable, with status LED
Band range: +/- 12dB gain
Xem thêm
Equalizer Nady System Inc. USA GEQ-215
mota
2-channel
Single rack space
15 2/3rd octave bands each channel
Balanced XLR and ¼" TRS input/output connectors
Band range: +/- 12dB gain
Xem thêm